STRENGTHENING OF SOCIAL AND EDUCATIONAL SERVICES FOR MINORS IN PALESTINIAN REFUGEE CAMPS OF MAR ELIAS, BURJ BARAJNEH AND RASHIDIEH
Thursday, November 10, Lebanon, Beirut
We inaugurated the second floor of the Ghassan Kanafani Cultural Foundation kindergarten in Mar Elias refugee camp.
The renovation and expansion works of the kindergarten, realized within the framework of the project " Strengthening of social and educational services for minors in Palestinian refugee camps of Mar Elias, Burj el Barajneh and Rashidieh in Lebanon " co-financed by the  Italian Agency for Development Cooperation (AICS) with the contribution of the Waldensian Church,  had been completed on October 5 and consisted in the construction of a multifunctional area, a storage room with a bathroom and a kitchenette, as well as a terrace.






To celebrate the completion of the works we decided, together with the teachers of the center, to officially inaugurate the new floor by inviting our financers and many friends of CTM and GKCF.
There were short speeches delivered by the director of the center, the directors of GKCF Farouk Ghandour and Anni Kanafani, CTM project coordinator Nicolò Volpe and the director of the Italian Agency for Development Cooperation-AICS Gianandrea Sandri. The speeches described the excellent collaboration between Italy, Lebanon and Palestinians refugees that led to the realization of this project as well as other project.




Right after the speeches, some of the kindergartners performed to us by singing two traditional Palestinian songs.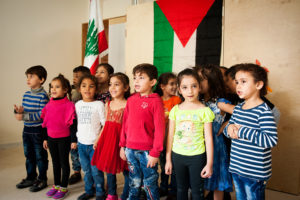 It was a great day of celebration and a nice way to share our satisfaction with this well executed project.