In March 2019 a new social farming activity has been implemented in the Rehabilitation Center in Sehaile to reinforce the project that CTM is carrying out in Lebanon in support of the Oum el Nour Association and its prevention work among young people and the recovery of young people entered the deleterious circle of drugs.
Six Saneen goats arrived in the Center of Sehaile to begin the production of goat's cheese which is considered a delicacy in Lebanon. This activity was included in the project activities following a rigorous business plan that validated the economic sustainability aspect of the initiative.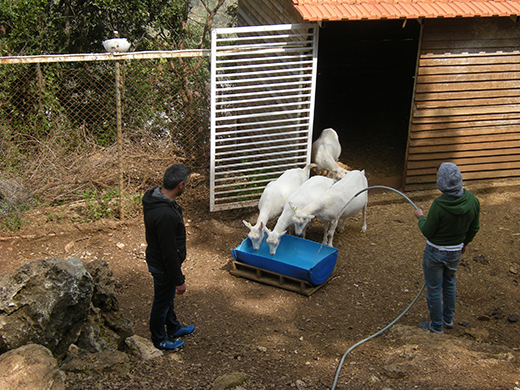 The Italian experts partners of the project (ASeS-CIA and the Cooperatives Capodarco and Sierro lo Greco) in agreement with the heads of the agricultural interventions of Oum el Nour, have therefore evaluated which was the best race not only in terms of milk productivity but also easier to manage daily. It should not be forgotten that also this activity will be managed by the young residents of the Center, with the support of their educators. It was important, for a sort of mutual respect, that the chosen goats had the character abilities to accept the periodic presence of new people who look after them.
All six goats are pregnant and they will progressively have their young in April. It will then be possible to switch to cheese production using the great cuisine of the Center of Sehaile. A part of the cheese produced will be allocated for consumption in the Centers and a part, instead, allocated for sale.
A new experience and a new planning based on the maxim that "the earth takes care of those who care for the earth".
This activity was carried out as part of the AID 10964 project "Strengthening of prevention, rehabilitation and social and economic reintegration services for drug addicts and former drug addicts in Lebanon" funded by the Italian Cooperation.